Open Insights: Open Access Scientific Journals – The Beginning of an Era

Posted by Paula Clemente Vega on 2021-10-01
The OLH Open Access Award 2020 awardee's report: the National Library of Kosovo
Open Access Scientific Journals – The Beginning of an Era
An Open Insights essay by Zaide Krapi, National Library of Kosovo
Last year, we applied to the Open Library of Humanities Open Access Award 2020, a new award aimed at funding open access projects across the globe. We were delighted when we were awarded funding to help us begin a larger project that we completed this year. This blog outlines the background to and importance of our project, and where we're headed next.
Background
Kosova's public libraries have had an asymmetrical development throughout their history, especially after World War II. This phenomenon was even more present in the 1990s with the imposition of repressive measures throughout Kosova libraries and other public institutions of the country. Kosova's past has been marked by social and cultural instability due to its environment and decades of repression. Due to this context, the development of libraries in Kosova was not like the often continuous and linear development of similar institutions abroad. The growth and aim of libraries in Kosova as academic institutions and as cultural and social establishments was obstructed primarily because of the country's very well-known political circumstances. Over the years, and despite all the difficulties, the National Library has never ceased to dream of fulfilling its mission. Nowadays, the library has made significant progress in collecting, storing, serving and sharing information to all its communities. During the past decade, the Library has established several small libraries within its building in order to offer better services to specialized patrons, such as: The American Corner Library, The Contemporary Art Library, NATO Library, Music Library, European Library, personal libraries of famous political and emblematic Albanian figures including Fehmi Agani, Krist Maloku, Esad Mekuli, Hasan Mekuli, and the Documentary Center "Kosova Memory". These small libraries with their valuable collections, from local and international institutions, individuals and outstanding personalities, are a great treasure. These collections, in terms of language, offer interesting information for specialists of certain fields of knowledge. Many projects are currently under development; all of them help and contribute to improving the development of the library of science and better serve the communities in our country.
The Library has also succeeded in restoring and creating new collaborative links with world library institutions and organizations, in addition to entering into written agreements with several library institutions throughout the world.
Fast forward to today: with a growing demand from readers to be able to find materials quickly, and their reluctance to hunt through physical repositories, the National Library of Kosovo is faced with significant challenges posed by the shift to digitalization and Open Access (OA). As active library staff members, we are continually searching for projects around the world that we can use to grow public awareness of our collections and their importance, and the increasing demand for openly accessible materials. The Open Access Project funded by the Open Library of Humanities was a milestone for us, as it allowed us to generate greater awareness of the pressing need for a change within the rapidly changing nature of libraries.
The National Library of Kosovo and the Digital Age
Across the world, libraries have traditionally been the richest repositories of human knowledge and cultural wealth. The National Library of Kosovo (NLK), a traditional institution, is currently going through a period of significant change. As traditional methods of collecting, storing and sharing information become more expensive and time-consuming, digitizing library material is regarded as a major advance over the physical maintenance of some library services. In line with this, many steps have been taken towards digitization, with the opening of the digital library within the NLK in 2019. The team is now in the process of developing several projects, starting with those with the highest priority and importance for preservation, for the reader and also for the country's national heritage.
Nowadays the goals of the library are:
● To serve as a shelter for collections, books, journals, manuscripts, documents, maps, music and other audio treasures, graphic creations, audiovisual creations and electronic documents, as well as other items of unique national, historic or cultural significance;
● To allow the public, in Kosova and elsewhere, a correct and reasonable access to the Library's collections through a variety of channels, among them advanced technological means;
● To offer permanent and temporary exhibitions of collections to the public;
● To organise cultural, literary and educational activities, geared towards the general public as well as more specific audiences;
● To perpetuate and manage an infrastructure that allows, among other things, suitable study, documentation, storage, preservation, presentation and research conditions.
Kosovo's Periodical Section
To provide some contextualization to the above, within the National Library of Kosovo there are many sections, including the periodical section (i.e journals, magazines, newspapers). The National Library of Kosovo (although it has changed its name several times) was established in November 1944 and is headquartered in Prizren. The library was then transferred to Prishtina in 1946. Despite facing challenges, this section today contains over 12,000 journal titles and 5,600 newspaper titles, published from different regions in Kosova, the Balkans, Europe and from abroad. Not only is the material diverse in authorship, it is also rich in content, with a broad range of disciplines from the social sciences to cultural and political theory. In order to document this diverse material, we conducted a research audit of publications in Kosova called 'De visu' ('Journal in Hand'). The audit found that most of these publications have existed since 1946 and that most of them continue to be published, which amounts to more than a half a century of publications. As Kosova is a democratic multi-ethnic country, some of the articles have also been published in several languages. As an illustration, the following figure (Fig. 1) shows the increase in the number of journals published as physical copies, showing the number of journals published in Kosova each year from 1946 to 2020: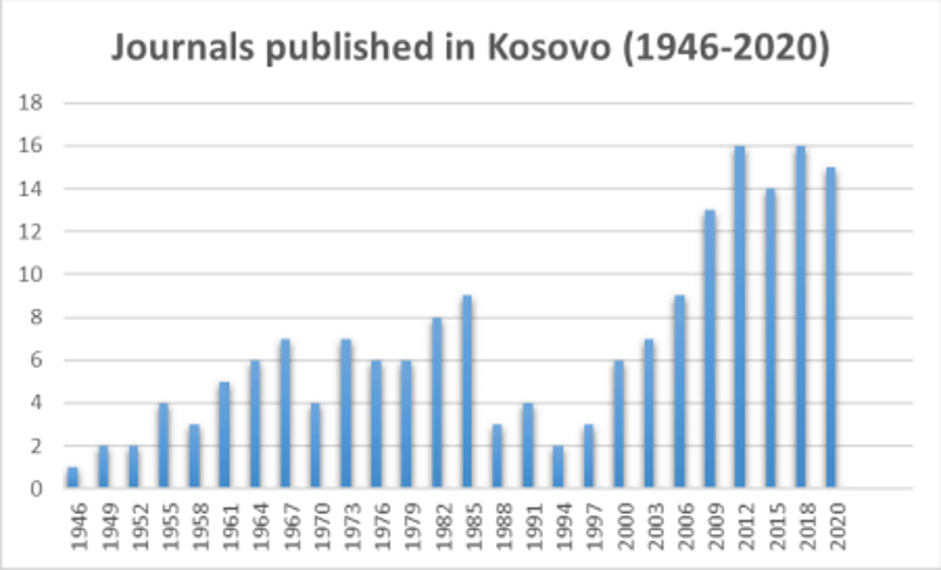 Fig. 1. Journals published in Kosova (1946-2020)

A second graph (below) shows how, from these journals, we have derived the type and profile of journals being published in Kosova (Fig. 2):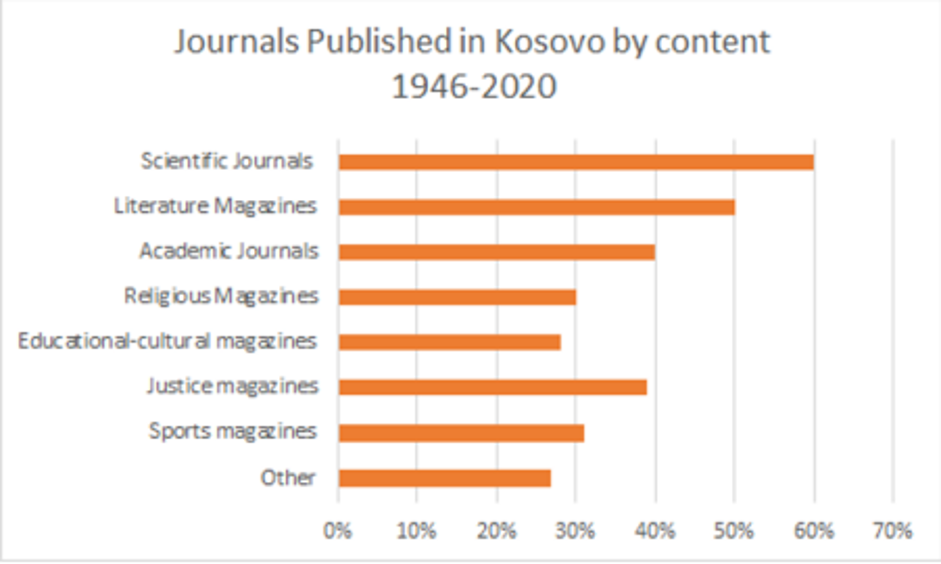 Fig. 2. Journals published in Kosova by content (1946-2020)
Indeed, there are a considerable number of articles, journals and rich materials that encapsulate human, cultural and organizational information on many different subjects. These are some of the early findings from our project on Open Access in Kosova.

So, what relationship does the digital library have with more traditional print library institutions? The traditional library clearly has a 'culture' that is different from the digital library service. Of course, despite the challenges of shifting mindsets from a traditional to a digital library, many people in the library world believe that digital libraries can simply be plotted onto traditional print-based libraries. This is certainly not the case for us in Kosova. The new formats are not seen as replacing the old ones, but rather as co-existing with them.
The Importance of Open Access Scientific Journals in Kosova
Library trends in Kosova are evolving and ongoing efforts are being made to find opportunities, channels and more sophisticated ways to keep pace with library trends in the world. We are constantly working to increase efficiency and transform ourselves technologically in a better way. One of these approaches is Open Access. Those who would benefit the most from Open Access are clearly students and universities. According to the Kosovo Agency of Statistics, Kosova has a population with an average age of 27 years. Younger generations prefer reading online and this increasing trend presents an opportunity for libraries. Illustrative of this, for instance, is the number of students in public and private universities, which is around 120,000, with 80% of students following their studies in any of our 7 Public Universities in Kosova, and 20% of them enrolled in any of our 24 Private Universities.
As well as younger generations, the large number of independent researchers, many of whom are already retired, would benefit from the growth of digitization. The National Library of Kosovo, with its rich collections, can be a great influence on studies in all areas of human activity. We are also aware that this whole transition requires work and commitment, strategy and planning at all phases. Among these issues of the transition to digitization and OA, there is still a need to talk, to discuss and to hold meetings both in and outside Kosova.
The Project Event
The project event (photo 1-3) was held during the annual 'Library Week in Kosova,' as part of the session Scientific Journals / Open Access Programmes with the aim of increasing the event's visibility. The event was organized by the National Library of Kosovo, Public Library "Hivzi Sulejmani" and NGO ETEA. The organization, opening and final completion of the event was entirely done within the "Library Week in Kosovo", which took place between 24-30 May 2021. The event, help on the morning of May 25, was opened by Zaide Krapi and Liridon Zekaj from the National Library of Kosovo, and included a brief video presentation by Dr Rose Harris - Birtill, Director of OLH.
The opening presentation was then followed by a wider discussion on the Project, its findings, goals, and the future collaboration with OLH.
Specific participants in cooperation with Association of Electronic Libraries of Kosovo were:
Opening Speech - Fazli Gajraku - Director of NLK
Iryna Kuchma - Open Access - EIFL Program Manager
Ioannis Kikis - Copyright Expert from the EU project.
Munish Hyseni - Director of the public library "Hivzi Sulejmani" – Prishtina
Agon Ahmeti - Director of the NGO ETEA
The participants with presentations were:
● Prof. Asc. Dr. Muhamet Mala - Faculty of Philosophy - Topic: 58 years since the first issue of the bulletin of the Faculty of Philosophy - challenges yesterday and today
● Prof. Dr. Nail Draga - Topic: Albanian language magazines in Montenegro - without institutional support.
● Prof. Dr. Hysen Matoshi - Topic: Albanological research-traditions and perspectives
● Prof. Asc. Dr. Arsim Sinani - Topic: The need for an Albanian platform for open access scientific journals
● Prof. Dr. Edmond Hajrizi - Topic- UBT center of education, as a model of knowledge and science.
● Dr. Maria Dojce - Scientific journals "Discussions" - Topic: The importance of mass information through scientific journals
Examining and analyzing the reality, importance and ethical aspects of the National Library as a center of scientific-academic information, during the event we also informed the public about the importance of the Open Library of Humanities as an organisation. Some of the main conclusions that we derived are:
1. With the development of Open Access, the mission and vision of the library would be fulfilled as an important step in its development strategy. The mission of the library is to collect, preserve, promote and make accessible the documentary and intellectual heritage of Kosova.
2. An essential advantage of Open Access is having charge-free articles which are offered to anyone who wants to read them. For the reader and the library, the benefits become immediately apparent as funded academic research is made freely available.
3. Another advantage of OA is that it benefits authors, as a larger number of readers also means a larger potential number of citations.
4. Given that Kosova is a state with a comparatively lower GDP (according to the Kosovo Agency of Statistics, in 2019 Kosova's GDP was 7.5 Billion Dollars), i.e., with insufficient income, Open Access would give researchers the opportunity to participate in international research, without publication fees. Thus, since researchers and institutions may not be able to afford to subscribe to academic journals, Open Access opportunities would help them considerably.
5. With the possibility of Open Access to information, new ideas can be shared, and new research pathways opened up.
6. The National Library of Kosovo, with equal distribution of information, will be playing a multi-part role in the following areas:
● Leading conversion of library materials into digital form;
● Encouraging governing institutions to focus and rely more on investing in and supporting knowledge creation and dissemination;
● Disseminating and collecting knowledge uniformly;
● Enabling the dissemination of information via Open Access channels;
● Assisting in identifying, creating, updating and leading the movement towards Open Access during this transitional period, and enabling the dissemination of information to the entire community.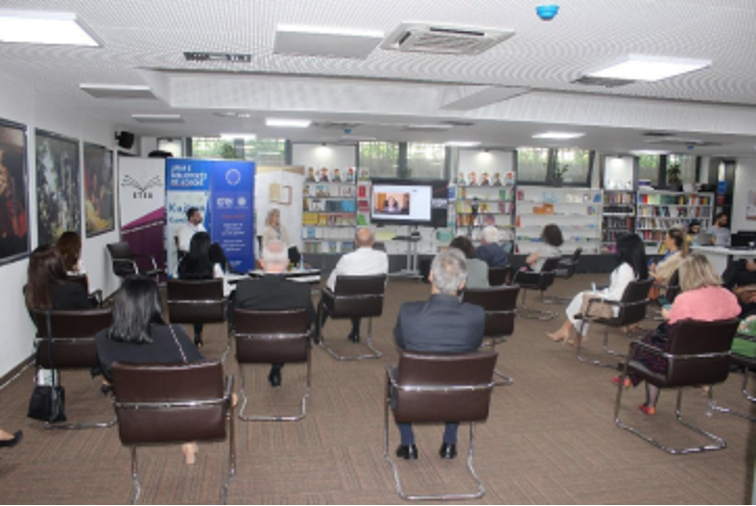 Photo. 1. Photo from the project event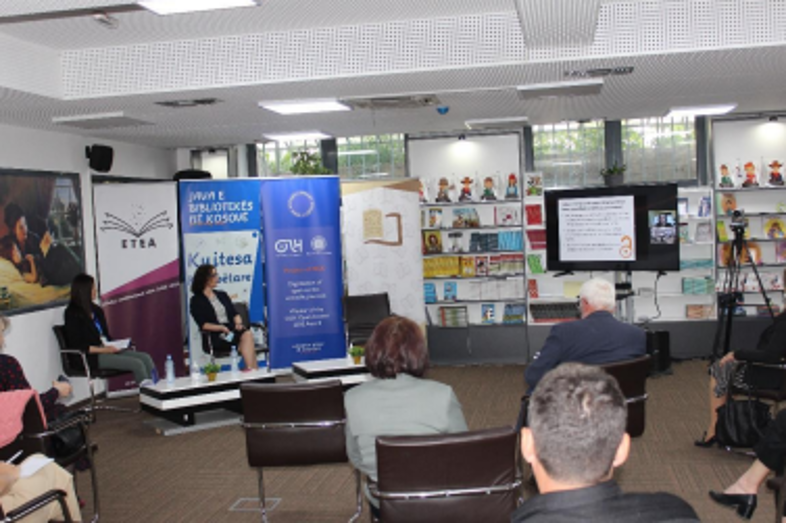 Photo. 2. Photo from the project event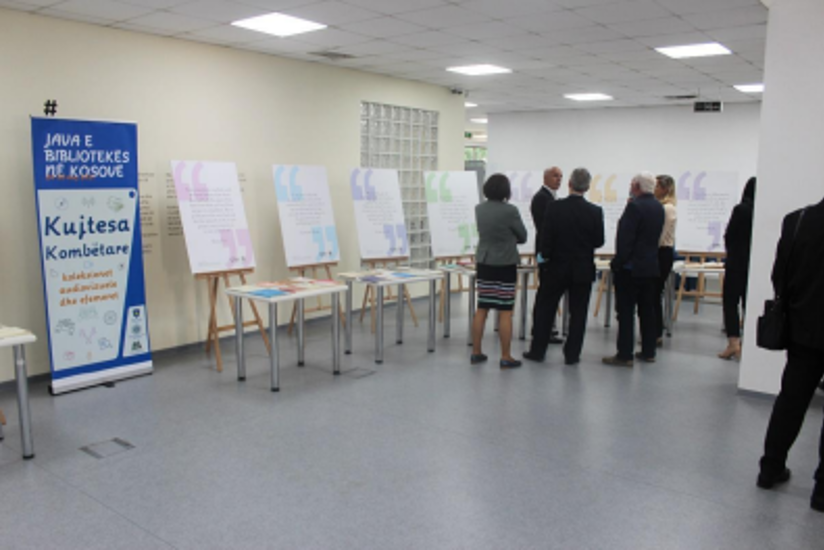 Photo. 3. Photo from the exhibition
With this project supported by Open Library of Humanities, alongside these project developments and the unwavering commitment of us all at the National Library of Kosovo, I believe we will contribute to and influence the development of Open Access scientific journals in Kosova. We believe this project was a path towards more discussion, opinions, arguments and ideas with the general public and academia on the possibilities of Open Access. As the largest library institution in the country of Kosova, we have not stopped looking for ways to create facilities, to enable learning, to help readers and to stoke their curiosity, desire and thirst for reading at the highest possible level.

The National Library of Kosovo must now study and plan how to establish an Open Access framework using library automation systems, how to improve the quality of purchasing, how to improve the borrowing system, and how to solve the reading issues that our readers are currently facing. The basic function of the library is to preserve human cultural heritage, launch social education, transmit scientific and technological information, and develop bridges that connect the legal, social, and most importantly, humanitarian aspects of open knowledge, because we owe it to the community. The more we disseminate information, the more we enrich and nurture a well-read society at all levels. On behalf of the National Library of Kosovo, I would like to thank the Open Library of Humanities and its staff for their support in helping us to develop our project, "Open Access Scientific Journals - National Library of Kosovo".
Thank you!
---
Our thanks to Zaide Krapi from the National Library of Kosovo for this very interesting and informative report on their OLH funded project.
Back to News List