The Comics Grid Webinar Series - Graphic Justice: A Comics Grid Webinar with Johanna Commins and Dr Neal Curtis

Posted by Paula Clemente Vega on 2022-07-19
Live Chat | Webinar
The Comics Grid Webinar Series - Live Chats on Comics Scholarship

Graphic Justice: A Comics Grid Webinar with Johanna Commins and Dr Neal Curtis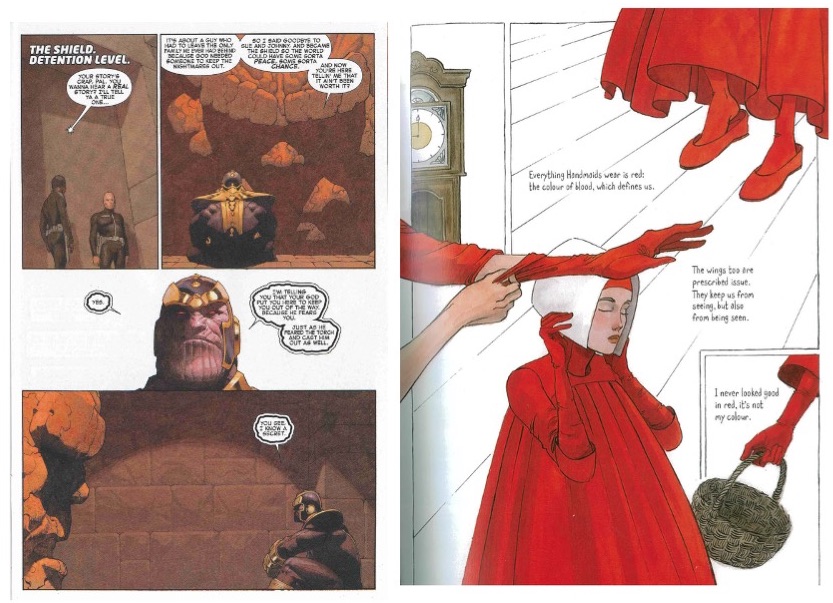 Marvel Worldwide © Secret Wars #6, Jonathan Hickman, Esad Ribic, Ive Svorcina and Chris Eliopoulos, 2015.
O.W. Toad © Renee Nault, The Handmaid's Tale: The Graphic Novel, 2019

Date: Thursday 29 September 2022

Time: 7-8am BST / 7-8pm Pacific/Auckland. Check your timezone here.

Registration: Free. Please register here.

To join the webinar: We recommend that attendees use Chrome to join. Collaborate works better if Google Chrome is used.
On this webinar hosted by Paula Clemente Vega (Open Library of Humanities) and moderated by Dr Thomas Giddens (University of Dundee), authors Johanna Commins (University of Melbourne) and Dr Neal Curtis (University of Auckland) will discuss the following Comics Grid articles:
Commins, J., (2021) "Composing the Handmaid: From Graphic Novel to Protest Icon", The Comics Grid: Journal of Comics Scholarship 11(1). doi: https://doi.org/10.16995/cg.214
Curtis, N., (2017) "Doom's Law: Spaces of Sovereignty in Marvel's Secret Wars", The Comics Grid: Journal of Comics Scholarship 7, p.9. doi: https://doi.org/10.16995/cg.90

Participants are strongly encouraged to read both articles in preparation for the webinar.

Panelists

Johanna Commins is a PhD candidate at Melbourne Law School and a member of the Institute of International Law and the Humanities. Her professional background is in refugee law and her current research is in law and literature, broadly defined. Her thesis reads Margaret Atwood's novel, The Handmaid's Tale, as a feminist jurisprudential text and uses it and its various iterations to think about relations between law, literature and women.

Dr Neal Curtis is Associate Professor in Media and Screen at the University of Auckland. His recent books include Sovereignty and Superheroes (Manchester University Press, 2016) and Hate in Precarious Times: Mobilizing Anxiety from the Alt-Right to Brexit (I. B. Tauris, 2021). He is currently working on a book project for University Press of Mississippi entitled Comics and Communication: Graphic Storytelling from Activism to Science.

The live discussion will be moderated by Dr Thomas Giddens. He is a Senior Lecturer at the University of Dundee, founder of the Graphic Justice Research Alliance and the co-editor of the Comics Grid "Graphic Justice" Special Collection.

The Comics Grid Webinar Series offers an online opportunity to chat live with authors about their articles published recently in the journal. Each episode focuses on two articles whose potential thematic and/or methodological interconnections can be explored and contrasted in order to stimulate scholarly discussion, collective learning and further research.
---
If you like the work that the Open Library of Humanities is doing, please consider asking your institution to support us financially. We cannot operate without our library members. More details for libraries can be found here: https://www.openlibhums.org/plugins/supporters/signup/.

Back to News List